Post by auntym on Jan 9, 2014 14:49:23 GMT -6
www.ghosttheory.com/2014/01/09/exorcist-wanted-inquire-within
Exorcist Wanted: Inquire Within
Submitted by Henry Paterson
January 9, 2014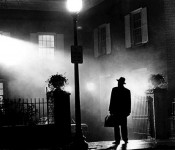 In the midst of these hard economic times new employment opportunities can be difficult to find. The Catholic Church is doing its part for job creation and to open up new employment opportunities.
From The Daily Beast
Vatican and Pope Francis Seek New Demon Exorcists
The Catholic Church says it's dealing with a spike in Satanic worship by training a growing team of specialized priests to keep the devil at bay.
By Barbie Latza Nadeau
A new push to train priests in Italy and Spain to perform the mysterious rite of exorcism could rid these two Catholic countries of their demons—or at least confront a growth in occult worship.
Father Taraborelli is a trained exorcist for the Rome diocese, and his work schedule is very busy. He takes calls to set up appointments for private exorcisms on a dedicated cellphone number he only answers between 9 and 10pm each night. The rest of the time, he is performing the Catholic ritual to those in need.
"The church is very clear on the rite of exorcism," he told The Daily Beast after one of his spiritual cleansing sessions this week. First, the person requesting the exorcism must be seen by a physician to make sure the cause of the perceived possession is not mental illness. That, he says, is at the crux of why Pope Francis wants to train more exorcists. "Exorcists need to be certified to eliminate the practice of exorcism by untrained novices," Taraborelli says. "Otherwise it can be very dangerous for the person who believes he is under the devil's possession."
Taraborelli, who says he performs up to 100 exorcisms some weeks, is part of a new training program in Italian Catholic churches designed to teach priests called to this particular specialization. Similar programs have been launched in Spain and Malta, where a spike in devil-worshiping practices has caused concern among Catholics. A host of new websites advertising everything from pagan rituals to training in black magic and the occult have sprung up in recent years and the Catholic church is hoping to fight fire with holy water. In Milan, seven new exorcists have been certified for service. In Florence, five new exorcists now take appointments.
How does one confront the hosts of Hell when they are in possession of a true believer?
CONTINUE READING:
www.ghosttheory.com/2014/01/09/exorcist-wanted-inquire-within