Post by auntym on Dec 11, 2014 13:59:08 GMT -6
www.huffingtonpost.com/2014/12/11/religion-aliens_n_6304984.html?1418316464

Lee Speigel @lee_Speigel
Faith vs. Science. Star of Bethlehem: star or UFO? And how will alien reality affect earthlings and religion?
Could Religion Survive Alien Contact?
Lee Speigel / lee.speigel@huffingtonpost.com
Posted: 12/11/2014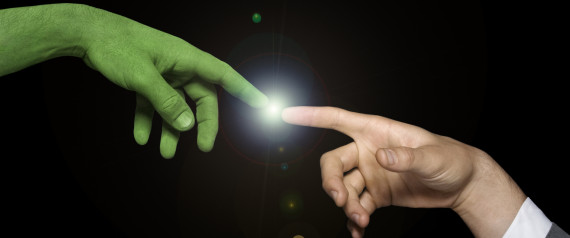 HUMAN ALIEN FINGER TOUCH
Pope Francis is known for shaking things up in the Catholic church. But few people saw it coming when he noted in a May homily that he'd be more than happy to baptize Martians if they asked for it.
"If tomorrow, for example, an expedition of Martians arrives -- green men with a long nose and big ears, like children draw -- and some of them come to us, and if one of them asks to be baptized, what would happen?" he asked.
The statement left some wondering whether this meant the Pope believed in aliens.
"Nobody read the [Pope's] context," said Jesuit Brother Guy Consolmagno, SJ, who holds two degrees from MIT and a Ph.D. in planetary science. Consolmagno is also the co-author of the recent book Would You Baptize An Extraterrestrial? (Image Publisher), written with Jesuit Father Paul Mueller, SJ.
"He wasn't talking about Martians. He was trying to explain what would happen 2,000 years ago when people were saying we should let gentiles [non-Jews] into the church. He was saying, 'Look, gentiles were as weird to them as Martians would be to us today.' He was being silly, tongue-in-cheek. But, you know, some people just don't have a sense of humor," said Consolmagno.
But even though the pope was making a point about welcoming people to baptism who ask for it, his homily brings up an interesting question: When and if we discover we're not alone in the universe, how will religion react?
It's an apt question for the Christmas season. Each year around the world, the same story is told and re-enacted over and over again: the familiar tale of a bright star in the heavens that led a group of wise men to Jerusalem to visit the newborn Jesus over 2,000 years ago.
The Star of Bethlehem is still considered a mystery of faith and science. Some debate how it's possible a star could travel and then stop. Others hypothesize that maybe it wasn't a star at all. A few people have even floated the idea that maybe the star was an unidentified flying object: a UFO.
The Bible describes many miraculous events -- accounts of things like the Star of Bethlehem or god-like creatures descending from the sky to interact with the citizens of Earth.
But does everything that was reported in those early biblical times indicate a conflict between faith and science?
"Most people who think there is that conflict don't really know what science is, and they don't really know what faith is," Consolmagno said. "You can't do science without faith, and you can't have a religion without having some facts to rest your faith on."
Guy Consolmagno
Jesuit Brother Guy Consolmagno, SJ
"It's not like science is a big book of numbers, and you memorize the numbers and now you know all of science. Religion isn't a big book of things that you have to believe in. And so, if you have the two books and they disagree with each other, then what are you going to do? It's the conversation about the universe we find ourselves in and the questions that everybody asks: How does it work? How come it's this way and not that way? Where did all this come from?"
For more than 20 years, Consolmagno, 62, has worked at the Vatican Observatory exploring connections between meteorites, asteroids and the evolution of small solar system bodies. This year, the American Astronomical Society awarded him the Carl Sagan Medal for outstanding public communication by an active planetary scientist.
Four years ago, Consolmagno also weighed in on aliens and faith when he was asked by a member of the media if he would baptize an extraterrestrial. His response of "Only if she asks!" shot around the world "as if I had made an official Vatican pronouncement about aliens."
"I thought it was a stupid question, and so I just came up with the first answer I could come up with," he said.
Though some may think that debating whether to baptize extraterrestrials is pointless, a 2013 HuffPost/YouGov poll revealed that approximately 50 percent of adults in the U.S. are open to the idea that alien spacecraft are currently observing our planet.
Another 2013 survey, taken by Survata Consumer Research, found that "37 percent affirmed a belief in the existence of extraterrestrials" and "atheists and agnostics are 76 percent more likely than Christians to believe in the existence of ETs."
CONTINUE READING:
www.huffingtonpost.com/2014/12/11/religion-aliens_n_6304984.html?1418316464