Post by swamprat on Dec 10, 2017 18:32:09 GMT -6
NASA to hold press conference to reveal latest discovery THIS WEEKNASA could be on the verge of an alien breakthrough after calling a press conference to unveil a major new discovery.
By Thomas Mackie
Published: Sun, Dec 10, 2017
The space agency will hold a press conference on Thursday to reveal its latest major discovery after searching outside of our solar system for life by scanning habitable planets.
The new discovery comes from the team at the Kepler space telescope, who have been searching for extraterrestrial life since 2009.
The telescope searches for Earth-sized planets in the "habitable zones" of nearby stars and has subsequently found thousands of planets which could hold life.
NASA officials said: "The discovery was made by researchers using machine learning from Google.
"Machine learning is an approach to artificial intelligence, and demonstrates new ways of analyzing Kepler data."
The Kepler space telescope spots alien worlds by noticing the tiny brightness dips they cause when they cross the face of their host star from the spacecraft's perspective.
Kepler has become the most successful planet hunter in history.
The telescope has found 2,500 alien worlds, which is around 70 per cent of all known exoplanets.
The vast majority of these discoveries have come from observations that Kepler made during its original mission, which ran from 2009 to 2013.
Over the past few years, researchers have used improved analysis techniques to spot many exoplanets in data that Kepler gathered half-a-decade ago.
Kepler's first mission, which ended in May 2013, involved observing around 150,000 stars.
The mission ended when the spacecraft lost its second orientation-maintaining "reaction wheel," which allows it to be directed towards stars.
Kepler is now on its second mission, called K2, where it is in search for exoplanets on a more limited basis.
Last year, NASA announced the discovery of nine planets orbiting the star TRAPPIST-1.
Three of the planets were believed to be in the star's habitable zone and capable of harbouring life.
A spokesman for NASA said: "The latest Kepler catalogue of planet candidates was created using the most sophisticated analyses yet, yielding the most complete and reliable accounting of distant worlds to date.
"This survey will enable new lines of research in exoplanet study, which looks at planets outside our solar system."
www.express.co.uk/news/science/890401/aliens-nasa-breakthrough-exoplanets-space-planet-solar-system-ai-ufo
NASA Hosts Media Teleconference to Announce Latest Kepler Discovery
Dec. 8, 2017
MEDIA ADVISORY M17-147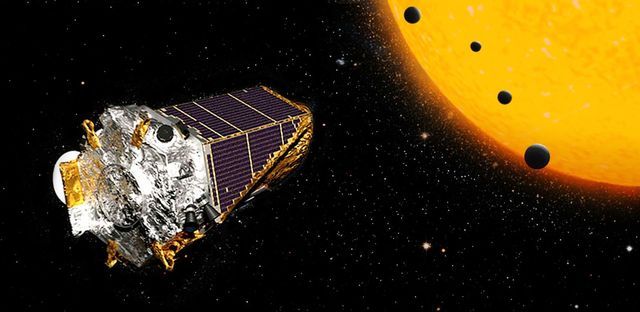 NASA's Kepler Space Telescope has gazed at more than 150,000 stars and continues to transmit back data that leads to important discoveries of celestial objects in our galaxy, including first-time observations of planets outside our solar system. Credits: NASA/Ames Research Center/Wendy Stenzel
NASA will host a media teleconference at 1 p.m. EST Thursday, Dec. 14, to announce the latest discovery made by its planet-hunting Kepler space telescope. The discovery was made by researchers using machine learning from Google. Machine learning is an approach to artificial intelligence, and demonstrates new ways of analyzing Kepler data.
The briefing participants are:
• Paul Hertz, Astrophysics Division director at NASA Headquarters in Washington
• Christopher Shallue, senior software engineer at Google AI in Mountain View, California
• Andrew Vanderburg, astronomer and NASA Sagan Postdoctoral Fellow at The University of Texas, Austin
• Jessie Dotson, Kepler project scientist at NASA's Ames Research Center in California's Silicon Valley
For dial-in information, media must send their names, affiliations and phone numbers to Felicia Chou at felicia.chou@nasa.gov no later than noon Dec. 14. Questions can be submitted on Twitter during the teleconference using the hashtag #askNASA.
www.nasa.gov/press-release/nasa-hosts-media-teleconference-to-announce-latest-kepler-discovery