Post by auntym on Apr 4, 2018 12:07:52 GMT -6
mysteriousuniverse.org/2018/04/strange-tales-of-encounters-with-the-devil/
Strange Tales of Encounters with the Devil
by Brent Swancer /
mysteriousuniverse.org/author/brentswancer/
April 5, 2018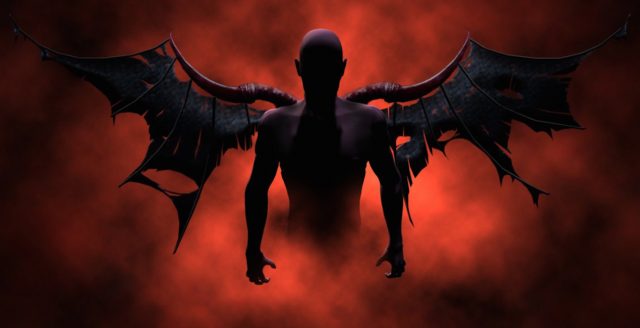 Throughout many religions, philosophies, and faiths around the world there has always been a figure held up as the absolute personification of evil. Far from reserved from the realms of just Christianity, this archetype of darkness and evil has been present since time unremembered. In modern times such ideas as the existence of a literal Devil have been treated as merely folklore and mythology, a metaphor for the evils of humankind, but there are many who take this to be a very real and present force out beyond our understanding, and adding to this are various tales of actual encounters with something that can only be described as the actual Devil incarnate. Here are some reports through the ages of people coming face to face with the very physical manifestation and avatar of evil itself.
Some of the most dramatic and prevalent of supposed encounters with the Devil throughout history have to do with Saints, who often are reported as not only having come face to face with the Dark One, but also doing battle with him. One of the earlier of these accounts is that of a St. Dunstan, who was a clergyman in England in the 10th century. Eventually the Archbishop of Canterbury, he was considered by many to be a pious, respected man of the cloth, as well as a musician, artist, and skilled metalsmith. He was also said to have had several encounters with the Devil himself.
One of St. Dunstan's first encounters with Satan was allegedly while he was living in Glastonbury as a hermit. One day a mysterious stranger approached him and requested of him to use his metal smithing prowess to make a chalice for him. Dunstan agreed and set to work making the requested item, but as he did so he noticed that the stranger was changing forms right before his eyes, going from a man, to a woman, to a child, flowing from one form to the other. It became clear that this was the Devil, but Dunstan tried to act like he had not noticed, continuing on with his work as if nothing was amiss. Then, when the chance presented itself, he reportedly grabbed a pair of red-hot tongs from the fire and pierced them into the intruder's nostrils, which caused great screams of pain and cast the Devil out.
However, the Devil was not so easily dissuaded, and came to visit Dunstan again on another occasion as well, this time as he sat playing the harp. This time the Devil came in the form of a filthy, smelly vagrant, but Dunstan was immediately aware of who he really was. As the stranger approached, Dunstan allegedly grabbed him by the leg and began shoeing him as he might do a horse, nailing a horseshoe to his cloven foot. The Devil supposedly screamed in agony, and agreed to be released on the condition that he never again approach a house with a horseshoe hanging over the doorway, and thus was the legend born that horseshoes are lucky. It is partially due to St. Dunstan's repeated warding off of the Devil that he was eventually made a Saint.
Another Saint who had apparently had some frightening encounters with the Devil was the Italian Saint Pio of Pietrelcina (1887-1968), also more commonly known as simply Padre Pio, who was particularly known for exhibiting persistent stigmata for most of his life. Padre Pio was also well-known for his frequent and apparently often quite violent battles with the Devil. On one occasion, a Friar Alessio found him lying bloodied and bruised within his quarters, and when Padre Pio was questioned he said that he had been attacked by either Satan or one of his demons, which had left him with three broken ribs. In 1906, one night Padre Pio heard footsteps coming from the next room, which he took to be those of his friend Friar Anastasio. He went to the window and tried to call out to invite him over for a chat, but found that no sound would issue forth from his mouth. That was when he noticed a large black hound sitting menacingly upon a nearby window ledge. He supposedly said of what happened next:
I saw the big dog enter through the window and there was smoke coming from his mouth. I fell on the bed and I heard a voice from the dog that said, 'him it is, it is him.' While I was still on the bed, the animal jumped to the ledge of the window, then to the roof and disappeared.
This sort of encounter would allegedly occur throughout Padre Pio's life, with the Devil and other demons often assaulting him, dragging him from his bed, striking him, or tossing him about the room. On other occasions he was kept from sleep by banging on the walls or floor, or even being spat upon by an unseen presence. These attacks would intensify to the point that they came on a nearly nightly basis, and the Devil came for him in many guises, apparently for the purpose of tricking, tempting, or beguiling him. One Fr. Gabriele Amorth would say of these varied forms:
The devil would appear to him as an ugly black cat, or in the shape of a truly repugnant animal. The obvious intent was to fill him with terror. Other times demons came as young girls, nude and provocative, performing obscene dances, to test the young priest's chastity. But Padre Pio sensed his greatest danger when the devil tried to deceive him by taking on the form of one of his superiors (his provincial superior or his spiritual director) or in a sacred form (the Lord, the Virgin, or St. Francis).
Padre Pio
The Devil was supposedly particularly infuriated by Padre Pio's work as an exorcist, and had apparently been cast out many a time by the man. Indeed, these possessed people would often immediately recognize Padre Pio when he arrived, and would go absolutely ballistic, berating and cursing him with shocking profanity and vile fervor. One of Padre Pio's colleagues, a Father Tarcisio of Cervinara, would say of this:
More than once, before leaving the body of a possessed, the Devil has shouted, 'Padre Pio, you give us more trouble than Saint Michael'"; also, "Father Pio do not steal the bodies from us and we will not bother you."
The Devil would supposedly taunt Padre Pio in other ways as well, including sending an actual letter that appeared as merely splotches across a page until Holy water was sprinkled upon it to make the characters legible. By 1964 Padre Pio was in relatively bad health and getting weaker in the face of such assaults. One attack in 1964 left him severely injured with a bruised spine and numerous cuts, but by this time Padre Pio was at peace and confident in his ability to ultimately keep the Devil at bay, holding no more fear towards this inexorable demonic force. He would say in his final days:
The human soul is the battlefield between God and Satan. The Devil is like a rabid dog tied to a chain; beyond the length of the chain he cannot seize anyone. And you: keep at a distance. If you approach too near, you let yourself be caught. These devils don't stop striking me, even making me fall down from the bed. They even tear off my shirt to beat me! But now they do not frighten me any more. Jesus loves me, He often lifts me and places me back on the bed.
CONTINUE READING:
mysteriousuniverse.org/2018/04/strange-tales-of-encounters-with-the-devil/