Post by swamprat on Jun 4, 2018 9:37:41 GMT -6
I found a picture of Skywalker driving his truck across Texas!

Sighting in Whitesboro, Texas on June 2, 2018Sighting Basics
Case 92482
Sighted 2018-06-02 10:15
Submitted 2018-06-04 09:09
(Reported 1 Day Later)
Time Zone America/Chicago
Source MUFON
Summary Transported on a truck with motorcycle escorts followed by possible support in unmarked cars
Tags photo lights flash saucer
Sighting Location
Approximation to protect the reporters identity
City Whitesboro
Region Texas
Country United States
Postal Code 76273
Photos, Videos and Media
One photo provided:
Enlargement: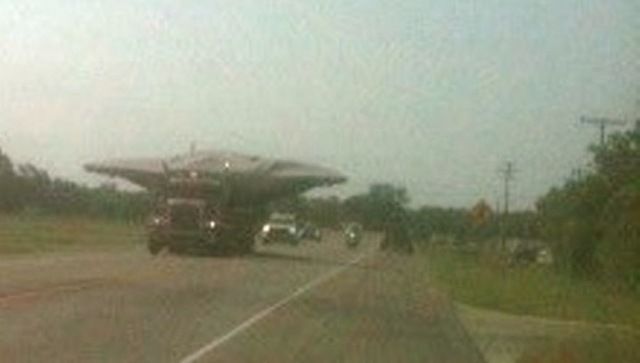 Sighting Specifics
Distance 20 Feet Or Less
Altitude Landed
Duration 00:01:00
Features Dome, Appendage(s)
Flight Path N/A
Shape Disc
Weather Details
Temperature 86°F / 30°C
Visibility 10 Miles / 16 Kilometers
Conditions No Abnormal Weather Conditions
Detailed Description
I was going south on 377 and saw a wide load coming to meet me. Traffic was heavy for a Saturday morning, people were quickly moving to the shoulder. In front of the truck were what appeared to be motorcycle cops waving people over very frantically.
A saucer shaped load wrapped in tarps or plastic came flying by heading north. As it passed I noticed on the rear of the load a fuselage wrapped in plastic, sticking out. It was about 10' long and 4' or so in diameter. It was shaped like the nose of a WWII bomber nose. The craft appeared stealthy and the WWII style nose didn't fit the modern stealth jet aerodynamic shape.....
I was able to shoot one photo with my old I-phone 3 but the truck was running so fast I didn't get another shot..... In my photo, the object covers two 12' lanes and a 10' shoulder. The object is clearly 35' more or less in width. As it passed I instantly thought it was a plane due to the fuselage, as it gave a silhouette of a fighter jet. It was going 60mph or so in a 55 zone coming into our busiest part of town.
I noted the following: 1) the cops(?) were in short sleeved shirt and police blue pants, but had no helmets, no riding gloves, no sun glasses, no riding jackets. Their bikes had flashing front headlights, but no red and blue warning lights. I've never seen a cycle cop without the above items. 2) The nose cone on the back of the load looked fake, but was covered so no detail was visible, but the wrap was tight and the shape was clear. 3) The cops(?) were frantically waving and yelling to move over, but at such a high rate of speed a driver did not hear this before having to pull over. 4) Looks of possible chase vehicles, but uncertain as nothing in this entourage had markings. 5). No apparent wing attachments possible that I could tell. the object was semi rounded front to rear I would guess. 6) Speed was excessive and dangerous for traffic conditions and above posted limits. 7). Maybe oddest of all: no licensed escort service used. No load warning, no yellow light mounted on load, no banners. Nothing to indicate a permitted load by the state.
I am a retired TXDOT engineer specialist and know that something as high tech and well planned as this load should have been, would have been, properly escorted and traveling at safe speeds. I'm attaching my photo, tell me what you think. Thx.
www.mufon.com/live-ufo-map.html