Post by auntym on Jul 2, 2013 11:34:54 GMT -6
www.euronews.com/2013/07/02/happy-world-ufo-day/#.UdLxYtqAhI8.twitter
Happy World UFO Day!
07/02/2013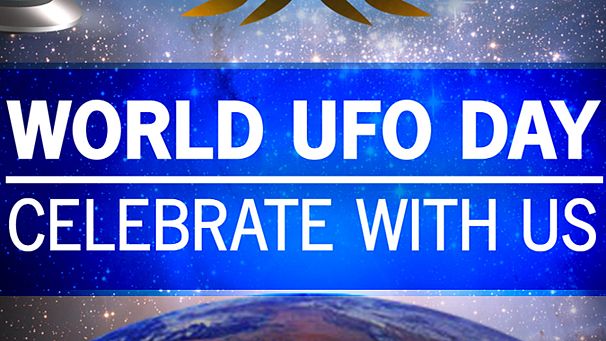 How to celebrate World UFO Day
The official page WorldUfoDay made a list of ideas to celebrate this day:
-Invite some friends or UFO enthusiasts to a themed party party
-Watch alien and UFO movies
-Invite extraterrestrials through meditation, thought or other ways of communication
-Wear or create your own UFO/alien T-shirts
-Watch the sky together and spot strange object flying around.
-Take pictures of strange objects in the sky.
-Make your own original UFO's out of frisbees or whatever else you can find.
-Engage in discussions about the possibility of extraterrestrial life.
-Share knowledge (books, videos, etc.) with proof that UFOs exist.
If you have more ideas just send us an email and…have a nice Ufo Day!
June 2 is World UFO Day, when people are invited to get together and watch the skies for unidentified flying objects.
In the past there were two World UFO days: July 2 and June 24, before the WUFODO (World UFO Day Organization) declared July 2 to be the official day to watch for alien spacecraft.
June 24 is the date that aviator Kenneth Arnold reported what is generally considered to be the first sighting of an unidentified flying object in the United States, while July 2 commemorates the supposed UFO crash in the 1947 Roswell UFO incident.
The Roswell UFO incident took place in the USA in 1947, when an airborne object crashed on a ranch near Roswell, New Mexico, on July. Explanations of what actually took place are based on both official and unofficial communications. The most popular theory of what happened is that the object was a spacecraft containing extraterrestrial life. Since the late 1970s, the Roswell incident has been the subject of much controversy, and conspiracy theories have arisen about the event.
The United States Armed Forces maintains that what was recovered near Roswell was debris from the crash of an experimental high-altitude surveillance balloon belonging to what was then a classified (top secret) program named Mogul. In contrast, many UFO proponents maintain that an alien craft was found, its occupants were captured, and that the military engaged in a massive cover-up. The Roswell incident has turned into a widely known pop culture phenomenon, making the name "Roswell" synonymous with UFOs. Roswell has become the most publicized and controversial of all alleged UFO incidents.
On July 8, 1947, the Roswell Army Air Field (RAAF) public information officer Walter Haut in Roswell, New Mexico, issued a press release stating that personnel from the field's 509th Operations Group had recovered a "flying disk", which had crashed on a ranch near Roswell.
CONTINUE READING:
www.euronews.com/2013/07/02/happy-world-ufo-day/#.UdLxYtqAhI8.twitter