Paul
Apr 5, 2011 19:41:46 GMT -6
Post by Morgan Sierra on Apr 5, 2011 19:41:46 GMT -6
Movie Review: Paul
Starring: Simon Pegg, Nick Frost
Release Date: 2011
Reviewed by Morgan Sierra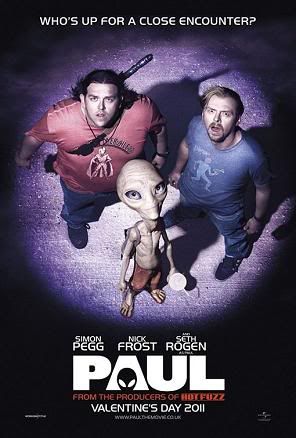 Paul
is a Science-fiction comedy film about an obnoxious but lovable beer-drinking, chain-smoking greenish-gray alien who joins a couple of nerdy English comic book enthusiasts on a cross-country road trip. His objective...to get back home. Along the way they are accosted by rednecks, shot at by Bible-thumpers, and chased by mysterious Men in Black. Somehow they manage to survive and in the process they discover what it really means to be human...umm...alien.
******************************
With plenty of profanity, vulgar behavior and a hint of sexuality,
Paul
is sort of a grown-up version of the 1982 blockbuster, ET. It is also a cliche of just about every science fiction movie made over the past several decades. Hidden throughout the film were veiled references to movies such as Close Encounters, Star Wars, Star Trek, Back to the Future, Raiders of the Lost Ark, The X-Files, ET, and dozens of other Alien-related films.
Simon Pegg and Nick frost, who wrote the movie as well as starred in it, considered it to be a "love letter to Steven Spielberg" and made sure to parody as many of his films as possible. In fact, the iconic director even made a cameo appearance.
Another thing that the movie managed to parody is the modern-day UFO/alien abduction phenomenon. Paul obviously was patterned after the typical Gray alien, although with a slightly greenish tint to him. He flew a typical saucer-shaped space craft and did many of the things that a typical alien would do, although in a very humorous way. Even the date and location of his arrival would be recognizable to any UFO enthusiast.
I personally think this is a very enjoyable movie. Some of the humor may have been a little bit crude and over the top but considering the depths to which today's society has fallen it was probably tame in comparison to some of the other garbage that is being put out nowadays. If you are easily offended you might want to bring a pair of earplugs but otherwise it is a very entertaining film. I would definitely recommend it for a few laughs.